"Every student can learn just not on the same day or the same way. " Every student cannot work equally good. But, every child is special in their own ways. So, if someone wishes to pursue MBBS but end up scoring less in the entrance exam. Then what? The answer is private medical colleges. There are many private medical colleges in India. Uttar Pradesh is one such state which has regained its value in past few months. UP is no more a backward state. There are many Private medical colleges in UP. Private medical colleges in UP are equally good in terms of curriculum. In fact, they take a lot of work from students and end up making them successful doctors.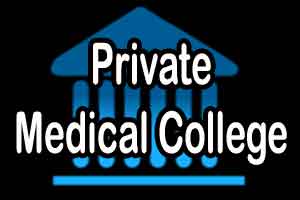 List the good Private medical colleges in UP?
The list is as follows:
1.Santosh Medical College, Ghaziabad- The college gives proper education on how to treat oral cavities and the oral diseases. It is mainly for oral health care.
2.Subharti Medical College, Meerut- Presently it includes 20 departments. The campus is vast and is in a good location as well. It provides super specialty in cardiology, neurology, neurosurgery and plastic surgery.
3.Era'"s Lucknow Medical college- It is among the top 30 medical colleges in India. It is under the Era Educational Trust. It provides postgraduation degree in 19 subjects.
4.Rohilkhand Medical College, Bareilly-  This is the college which is promoted by the medical experts, also toppers of PMT and CPMT.
5.Muzaffarnagar Medical college- It is run by Fateh Chand charitable trust. It provides a degree in limited courses. Infrastructure-wise, it is one of the best in up.
Medical studies need a lot of time and patience. This does not come easy. It is not just the studies, personality development of the student is important too. The college you choose should provide you both otherwise it is of no use to pursue this profession. Confidence in your subjects in a must.  Even after clearing the entrance, you need to work harder to stay on the right path.
Many other countries provide a very well groomed medical education.It is important to decide whether in India or abroad.Colleges abroad offer equally good medical education. so, it is your choice on what to choose?
Career growth is helping students for admissions in Abroad for MBBS for countries such as China, Philippines, and Georgia. Career growth is one stop shop which helps in services such as University selection, Genuine Counselling, Application, visa and after visa services.
https://youtu.be/lxnTpIt4p4Q